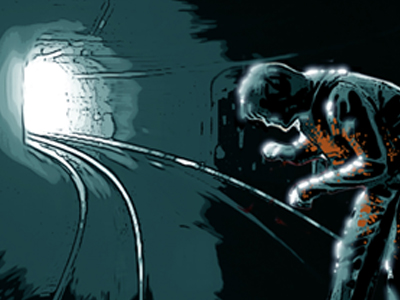 9 unique tales of fantasy, horror and science fiction…
A WINTER CROSSING:
Magic comes at a price, and the price is too dear.
YELLOW FOG:
The simplest of us comes to a crossroads with the destiny of our species
PRISM:
The things that make us different not only define us, but defines our fate, and the fate of the entire kingdom.
THE INTERPRETER:
Not all is lost in translation.
MAGRITTE THE THIEF:
When Angels don't act like angels
THE WELL:
Be careful what you wish for.
SUBWAY ZERO:
An incident in the underground.
THE STORY ROOM:
Time. Travel. Will. Kick. Your.
DANGER IN THE NIGHT:
When a prowler with a knife spouts poetry, beware.
REVIEWS
"I'm always pleased to read a good collection of short stories. This book contains tales of science fiction, fantasy, horror, humor, and the supernatural. While I enjoyed them all, I did have favorites. A Winter Crossing is an excellent fairy tale, of the original type. I thought of PRISM as a fable, featuring a an unlikely hero. Subway is certainly science fiction, but I perceived it as horror also, considering that the scenario presented is not at all impossible. It's scary stuff. The Interpreter is a satisfying example of wisdom trumping arrogance, and is more about people than science fiction. The Well deals with wishes and justice in a unique fashion. Danger in the Night is an unusual look at an unsolved crime, and the lives that it disrupted. These stories stood out for me as excellent tales.
While each story is unique, I thought the remaining ones were not quite as strong. The book as a whole, though, is an enjoyable mix of styles and plots. If you are a fan of short stories or speculative fiction, I recommend you give this anthology a look."
-- Deb Robbins